15 years of services putting the needs of the individual first.

Our centers offer a structured environment to effectively deliver ABA therapy. A fun and productive environment to receive intensive treatment while also meeting and interacting with other children.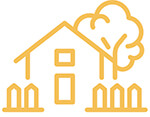 Our home-based and community ABA therapy allows our therapists to provide treatment in the child's natural environment where they encounter everyday situations. This helps with the transfer of treatment to real life.

Whether you want an ABA therapy program for your child or just want to talk about your options, our caring staff is available to support you along the way.
Kaleidoscope ABA uses an evidenced-based model for treatment and supports to individuals with Autism Spectrum Disorder (ASD) as well as other behavioral and developmental disabilities.
We work with children in many settings.  We deliver intensive applied behavior analysis therapy treatment to children in their home, community, or at one of our centers. All applied behavior analysis programs are developed and directly overseen by Board Certified Behavior Analysts (BCBAs), and are implemented by our Registered Behavioral Technicians or ABA Specialists.
Our services are delivered through an exclusive partnership with


Cleveland Clinic Children's Center for Autism.
As a partner our staff is training and has access to the latest autism resources and research of this world-renowned academic medical center.
The process of starting services may feel overwhelming but we are here to help ease those first steps for you and your family.
Family Support Services
Beyond just the treatment plan – we offer a fully supportive experience for the child and family.
We strive to provide both individual and community support to your family through advocacy, offering free parent support groups and by connecting you with resources beyond our own organization.
You will find strength through our local and national network of individuals and families that are part of the Kaleidoscope family and embody the Kaleidoscope ABA Way.